Back to the
Index of Announcement Emails
November 10, 2015
2015 Festival a Huge Success!
Next Festival - Mark Your Calendars
October 7-9, 2016
That's right, forget that biennial stuff. Every year! For 2016, the basic plan includes a Friday evening reception for donors and sponsors, a Saturday full-day, and a Sunday half-day with an emphasis on model layout tours. If you'd like to participate in any way next year, please
Contact
us.
2015 Highlights
Thousands of people visited over 70 venues and events during the weekend of the Central Coast Railroad Festival, thoroughly enjoying a wide-range of railroad-related activities spread across one of the most beautiful couple counties in the country. We've got hundreds of photos from this year's Festival already posted. Check them out starting
here
.
We welcomed the
Jack House
of SLO to this year's lineup, and did they ever jump in with both feet! From developing a railroad poetry booklet and holding a poetry reading, complete with reception, to a roundtable talk about preserving the history of the railroads, to guiding a bike ride along the route of the old Pacific Coast Railway (Bob Jones Trail), and developing a Dreamlines Exhibit of the railroads R. E. Jack dreamed of but were never built.
The
History Center of SLO County
housed a Pacific Coast Railway exhibit developed by Andrew Merriam. It will be up for a couple months and was highlighted at Art Obispo's "Art After Dark" on Friday night.
How about a standing ovation for Bob Chaparro of the
Model Railroads of Southern California
for the fantastic model layout tour! About 22 locations were on the program, and hundreds of enthusiasts got to see some fabulous railroads. Bob's photos are
here
.
Many thanks to the
SLO County Library
system that provided railroad storytime reading at all their locations leading up to the Festival. They also made available the community rooms at the SLO Library for a large model layout by the Orange County N-Gineers, photography displays by Rich Hansen and Brian Lawler, and three talks: Joe Carotenuti speaking on early SLO railroad history, David Weisman on Amtrak, and Jamie Foster on Railroading in the Greater SLO Area. Also at the library artist Joan Sullivan displayed her work.
Did you learn about Cal Poly's library project to document the history of the railroads in our area?! "Next Stop: San Luis Obispo: The Arrival of the Southern Pacific Railroad" will be on the 4th floor of the Kennedy Library on campus until Decemeber 17th, and may also be accessed online
here
.
Hopefully you made it to the
Oceano Depot
to not only see that original Southern Pacific depot but also see the
San Luis Obispo Model Railroad Association
's layouts set up inside.
We welcomed
Camp Roberts
and the
Pioneer Museum
to the Festival this year! Camp Roberts featured a model of the train station that was there at one time, and the Pioneer Museum had a rail handcar on display.
A couple dozen people joined Joe Morris' and the
Sierra Club
's "Historic Walk of the SLO Railroad Historic District".
Did you take the excursion on the
Amtrak
Coast Starlight over Cuesta Grade and enjoy "Train Wreck Friday" at
Pomar Junction Winery
? You should have.
Of course, there was a great deal of activity at the host location, the
San Luis Obispo Railroad Museum
. About eight talks were presented throughout the weekend, and lots was available to see (and purchase) out on the platform and around the building. We trust you got to see the Museum's
Central Coast Model Railroad
, it's coming right along!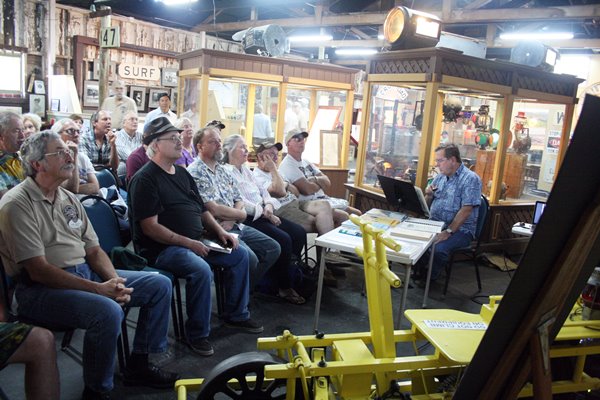 Speakers included:
Santa Maria Valley Railroad (Jamie Foster)
Union Pacific Railroad (Liisa Stark)
Cal Poly's Swanton Pacific Railroad (Ed Carnegie)
Pacific Coast Railway (Curtiss Johnson)
Amtrak Trails (Gary Coombs)
R. E. Jack (James Papp)
Festival Host
San Luis Obispo Railroad Museum
Many thanks to our
2015 Major Sponsors!
Amtrak
Santa Maria Valley Railroad
Union Pacific Railroad
Festival Featured Hotel
Sands Inn & Suites, SLO
Promotional Partner Hotel
Embassy Suites San Luis Obispo
Promotional Partners 2015
City of San Luis Obispo
(TBID and PCC)
San Luis Obispo Library
San Luis Obispo Vacations
Arts Obispo
Media Sponsors 2015
Central Coast CW5
Central Coast Family Magazine
KSBY-TV6
SLO Tribune
Participants 2015
Arts Obispo
Camp Roberts Historical Museum
Central Coast Trains
Central Valley Model Works
Doc Burnstein's Ice Cream Lab
History Center of San Luis Obispo County
Jack House
Model Railroads of Southern California
Oceano Depot
Operation Lifesaver
Orange County N'Gineers
Paso Robles Pioneer Museum
Photographers Rich Hansen and Brian Lawler
Pomar Junction Vineyard & Winery
Railroad Historic District
San Luis Obispo County Library
San Luis Obispo Model Railroad Association
San Luis Obispo Railroad Museum
Santa Maria Valley Railroad
Santa Maria Valley Railway Historical Museum
South Coast Railroad Museum
Swanton Pacific Railroad
Union Pacific Railroad
Feedback/Ideas
If you have any feedback - good, bad, or indifferent - that you'd like to share with us, please email it to
Feedback@CCRRF.com
. Additionally, we welcome ideas for new activities, requests to participate, etc. Tell us anything you think will help make future Central Coast Railroad Festivals even better.
Thank YOU!
And last but not least, many thanks to you for your interest in the Central Coast Railroad Festival! Hope to see you again soon.
Excursion on Saturday, December 12th
Arrive with Santa by train! Grab a ticket for Trip 1 on December 12th and Santa will join your return from Santa Barbara at Grover Beach for a fantastic holiday arrival into San Luis Obispo. Details are
here
. UPDATE: This event has been canceled.
What's Up at the SLO Railroad Museum
The SLO Railroad Museum is open EVERY Saturday from 10am to 4pm. Watch for special holiday displays and events, like Kids FREE Admission when wearing a costume on Halloween Day, and free admission with the donation of an unwrapped new toy for Season of Hope on December 5th and 12th.
Museum website
.
Roadamite Field Trip
Back by popular demand, this is a reprise journey by the Friends of the Santa Maria Valley Railroad led by the inimitable Kevin O'Roark. Tour the vestiges of the SMVRR and the PCRy south and east of Santa Maria. Bring some money for lunch (TBD).
Saturday, November 14th
, 10am till about 2:30pm including lunch; further details to those who RSVP.
Friends Membership and RSVP required; limited seats, Contact Friends
.
Photos...
Year-Round Calendar
A Central Coast Railroading Calendar offers up-to-date listings for all rail events in our area:
CCRRF.com/calendar.html
. Do you have a Central Coast railroad event to add to our calendar or announcements? Email it to:
addevent@ccrrf.com