Back to the
Index of Announcement Emails
October 28, 2016
What a Great 7th Annual Festival!
Next Festival - Mark Your Calendars
October 13-15, 2017
If you'd like to participate in any way, please
Contact
us.
2016 Highlights
Loads of people enjoyed events, displays, presentations, layouts, etc. from Lompoc to Paso Robles during the weekend of the Central Coast Railroad Festival. We've got tons of photos from this year's Festival already posted - check them out starting
here
.
SLO's
Jack House
returned to the Festival schedule with railroad songs, tours, and two exhibits: "The Brief Life and Early Death of the SLO Street Railway" and "Dreamlines: The Unbuilt Railroads of the Central Coast."
Photos
.
How about another standing ovation for Bob Chaparro of the
Model Railroads of Southern California
for the fantastic model layout tour! About 18 locations were on the program, and hundreds of enthusiasts got to see some fabulous railroads. Bob's photos are
here
.
Jack Hutchinson's 2016 CCRRF Layouts Video (43mb, 720p)
Many thanks to the
SLO County Library
system that provided railroad storytime reading at all their locations leading up to the Festival. They also made available the community room at the downtown SLO branch for the Orange County N-Gineers layout display and display of all the children's artwork created during the Library Reading Times. Amtrak gave away Coast Starlight tickets to one lucky artist.
Photos
.
Hopefully you made it to the
Oceano Depot
to not only see that original Southern Pacific depot but also see the
San Luis Obispo Model Railroad Association
's layouts set up inside.
Photos
.
The bike tour this year followed the Pacific Coast Railway right-of-way from the SLO Museum to the Octagonal Barn. The group stopped at several locations of importance along the PCRy route as it made its way south from the Museum area which was the northern terminus of the PCRy. At each of these stops Glen Matteson (SLO Boardmember) discussed the historical significance and showed old photos of those areas.
Photos
.
Did you take the excursion on the
Amtrak
Coast Starlight over Cuesta Grade and enjoy "Train Wreck Friday" at
Pomar Junction Winery
? If not, don't miss the next one!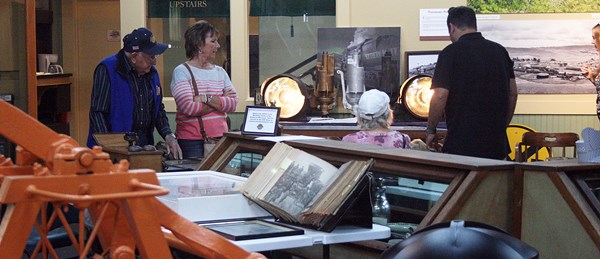 Of course, there was a great deal of activity at the host location, the
San Luis Obispo Railroad Museum
. Talks, exhibits, model trains, artists, photographers, Amtrak, Operation Lifesaver, face painting, play area, music, food, etc. For the details of the happenings and photos from the events, go
here
.
Festival Host
San Luis Obispo Railroad Museum
Many thanks to our
2016 Major Sponsors!
Amtrak
Santa Maria Valley Railroad
Union Pacific Railroad
Festival Featured Hotel
Sands Inn & Suites, SLO
Promotional Partners 2016
City of San Luis Obispo
(TBID and PCC)
San Luis Obispo Library
San Luis Obispo Vacations
Arts Obispo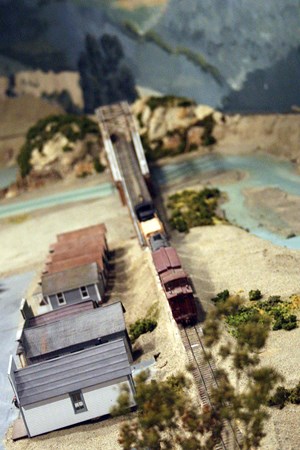 Media Sponsors 2016
Central Coast CW5
Central Coast Family Magazine
KSBY-TV6
SLO Tribune
Participants 2016
Arts Obispo
Central Coast Trains
Central Valley Model Works
Doc Burnstein's Ice Cream Lab
Jack House
Lighthouse Coffee
Model Railroads of Southern California
Oceano Depot
Operation Lifesaver
Orange County N'Gineers
Paso Robles Pioneer Museum
Pomar Junction Vineyard & Winery
Railroad Historic District
San Luis Obispo County Library
San Luis Obispo Model Railroad Association
San Luis Obispo Railroad Museum
Santa Margarita Historical Society
Santa Maria Valley Railroad
Santa Maria Valley Railway Historical Museum
South Street Roundhouse
Swanton Pacific Railroad
Tia Juanita's
Feedback/Ideas
If you have any feedback - good, bad, or indifferent - that you'd like to share with us, please email it to
Feedback@CCRRF.com
. Additionally, we welcome ideas for new activities, requests to participate, etc. Tell us anything you think will help make future Central Coast Railroad Festivals even better.
Thank YOU!
And last but not least, many thanks to you for your interest in the Central Coast Railroad Festival! Hope to see you again soon.
Pacific Coast Railway Bus Tour
November 13th
Bus departs the SLO Museum's south-end parking lot at 8am sharp (arrive early!). Pea Soup Andersen's in Buellton for lunch about noon, on your own, off the menu. Museum return about 4pm. Cost is $39 per person, guests welcome. Led by Karl Hovanitz. Contact Media@SLORRM.com or 805-548-1894 to get tickets.
What's Up at the SLO Railroad Museum
The SLO Railroad Museum is open every Saturday from 10am to 4pm. Watch for special holiday displays and events, like Kids FREE Admission when wearing a costume on Halloween Saturday (29th), Santa's visit December 3rd, and more.
Museum website
. And here's their
Schedule of Events
.
2017 SLO Train Day set for May 13
The SLO Railroad Museum will be open from 10am to 4pm. Watch for activities in and around the historical Freight House including Running Model Trains, Railroad Swap Meet, Kids Activities, Music, Railroad Art and Photography, Amtrak Display, and railroad films as well as various Presentations and Tours.
See last year's
.
BSA Railroad Merit Badge
On Sunday, January 22, 2017 the San Luis Obispo Railroad Museum will be offering their 3rd Railroad Merit Badge Class and Sign-Off Day. This class gives local Boy Scouts of America an opportunity to earn their Railroading Merit Badge.
Details
.
Year-Round Calendar
A Central Coast Railroading Calendar offers up-to-date listings for all rail events in our area:
CCRRF.com/calendar.html
. Do you have a Central Coast railroad event to add to our calendar or announcements? Email it to:
addevent@ccrrf.com
Do you have a Central Coast railroad event to add to our next broadcast email? Email it to:
addevent@ccrrf.com
.